Let's talk fingering. At first glance, 'The best way to finger a girl' might seem like a rather remedial topic for guys like us.
Asking how to finger a girl could seem like a quaint throwback to awkward teenage fumblings. Those first forays below her belt when you were equal parts horny, confused, and surprised she was letting you.
Sure, we can view a good old slippery fingerbang as a brief, intermediate step toward what you and her are both really after. Fingering a girl without a second act to follow is something that remains a target for comedy bits involving sad, aborted sexual encounters:
"Yeah man, I was knuckles deep in her at the club the other night, but we were both so drunk we passed out like that, leaning against the wall by the restrooms with my hand in her panties."
(True story.)
The truth is though, putting some effort into learning how to finger a woman the right way can take your game to the next level.
But while you're perfecting your fingering technique, why not stack the deck in your favor with this amazing Basics clitoral vibrating bullet? She'll wonder where you've been all her life when you hit that clit with a powerful stimulating vibe that's effective without being overpowering. Fits snugly on your finger with a rubber sleeve and features fins and nodules for extra surprises for her.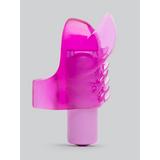 BASICS Vibrating Finger Bullet
The ever-popular Finger Bullet features a small but strong vibrating bullet slipped inside a stimulating textured sleeve. Perfectly shaped to deliver intense pleasure with its thrilling single speed vibrations, whether play is solo or shared…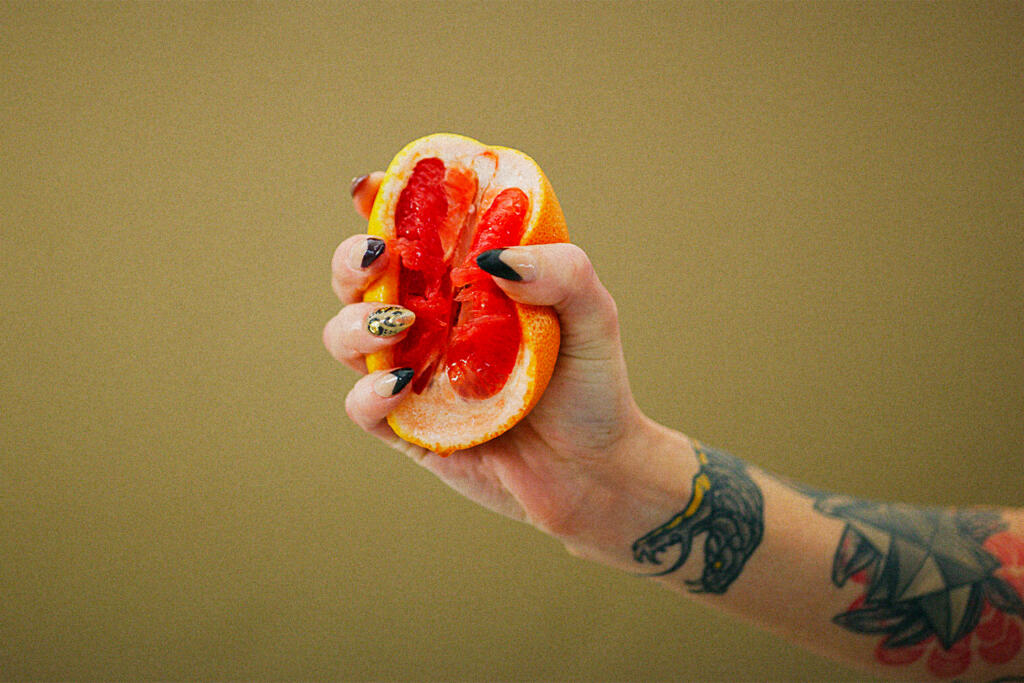 The importance of learning how to finger a girl – with finesse
Let's start out with a few facts:
The vast majority of women can't orgasm from penetrative sex alone.
Your hands and fingers a formidable tool.
Most women require digital, oral, or other stimulation before they can cum. Yet, so many guys make the mistake of being in a rush to get their gherkin up in her guts, making the finger fuck portion of the program as brief as possible.
But if you want to give her a mind-blowing orgasm, you might take a little extra time to polish her peach before slipping her the pickle.
And remember: unless you're some kind of truly alien freak, your fingers are more agile, bendable, and mobile than your dick.
As we've all known since around age 12 or 13, we have the power in our hands – literally – to make amazing things happen.
Sometimes several times a day. So maybe it's about time you put your well-versed jacking skills into learning how to do some jilling.
Here's a step-by-step plan:
1. How to finger your girlfriend: Do some recon
We all know that the clitoris is the gold mine for getting her off. A recent meme tells us there are some 8,000 nerve endings in the glans of the clitoris, around twice as many as the penis. And those 8,000 nerve endings connect with some 15,000 other nerve endings in her pelvic region, amplifying her pleasure.
So, great. Hit the clit and we're good to go, right?
Not quite. Despite teenage you being overjoyed when he managed to find the clit, the fact is, that little bundle of nerves is super sensitive. You don't want to start bashing away at it with your filthy monkey fingers first thing.
We dudes naturally see the world from a penis-centric viewpoint. So, when we've found the spot where we know she likes to be touched, we think of it like when a girl finally, FINALLY reaches down and starts teasing our cocks.
(Admit it, after a few seconds of that we're all thinking, "For Christ's sake love, just take it out, get a good grip, and start stroking it already!!")
While the clitoris is definitely going to cum into play, you should work your way up to it – literally.
A woman getting fingered before you leap onto her clitoris willy-nilly is going to be more properly warmed up and stimulated for more intense clit action.
Take the time to explore her entire vulva, as it's all tremendously sensitive too, including the mons pubis or pubic mound, the outer labia and inner labia.
The clever design of the GLUVR Rechargeable 6 Function Finger Vibrator expands your limited man-motions and transforms your finger and thumb into a two-ln-one mini vibe.  Preprogrammed with all the best moves to assist your fingers, this addition to your bedroom fun will leave her moaning helplessly!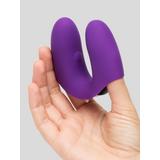 GLUVR Rechargeable 6 Function Finger Vibrator
Orgasms are at your fingertips – quite literally – with the latest in Lovehoney's Design a Sex Toy creations. GLUVR will get your hearts racing and fun parts throbbing with its powerful pulsations and flexible design for pleasure that fits like a glove.
2. Fingering techniques: Lube it up
If you've ever encountered a woman who seems horny but isn't all that wet, it can be confusing. (Hey boys, whiskey clit is a real and tragic thing, much like whiskey dick.)
Some women just don't get as slippery as others, at least not right off the bat.
Yet that puts you in a bit of a bind when you're trying to figure out how to finger a girl, simply because all your scrabbling around down there is a lot more pleasurable for her when she's as wet as an otter in a rainstorm.
So, don't be afraid to introduce some lube into the mix. Some women can get embarrassed about not being wet right away – like whiskey dick for us – but a fun way to get around this is to invite her to use lube on you too. 😉
3. How to finger a girl properly? Be patient
This one goes to understanding the differences between a coochie and a custard launcher: they work on different timelines.
We've all had a whole lot more experience making ourselves cum than making women cum. And sometimes our expectations can be a bit skewed by this imbalance in our, uh, research.
But if you want to know how to finger someone and get good results, start slow. On average it takes a woman 15 minutes of stimulation to reach orgasm, and that's when she actually likes it.
That may or may not include some random grubby gorilla jabbing away at her innards while repeatedly asking, "Hey didja cum yet?"
Think of fingering someone as playing a symphony: there's the tuning up part, then the slow build to more intensity, then finally a crescendo of energy and action.
But how do you tell what part of the symphony you're currently playing in?
4. Tips for fingering a girl: Listen to her body (and voice)
Again, unlike when you rub one out in the toilet stall on your lunch break, guys, this is a process that requires a little finesse.
As you slowly build on those preliminary light touches on the outside of her vulva, working your way in slowly and finally centering your attention on the clit, you've got to key in on what she's telling you – whether or not she's saying it in words.
Listen not only to her breathing and the non-verbal sounds she's making, focus on how she's moving her body against your hand as you do your thing.
What the sex advice pimps from the Key & Peele sketch "Cunnilingus Class" said also applies to how to finger a girl:
"Communicate with your bitches!"
If she's grinding against your hand and moaning when you're doing a particular move, stick with that!
And don't be afraid of verbal communication either. Most women will tell you that simply asking, "Do you like it when I do that?" is a huge step. Being open and simply asking for direction goes a long way toward helping her feel more relaxed.
With this ring, I thee finger. Go back to basics with this Basics Ring Vibrator and she'll fall head over heels – or at least throw her heels up over her head – when you get going. The battery lasts 30 minutes and the compact size makes it the perfect toy for when you want to play on the go. It's a simple way to assist your fingering technique, but sometimes simple is best!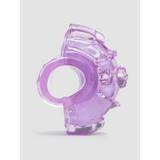 BASICS Finger Ring Vibrator
Add an exhilarating extra dimension to your digits with this clever little vibrating finger ring. It's great for solo use, fun with your partner and perfect to pop in your travel bag for pleasurable weekends away.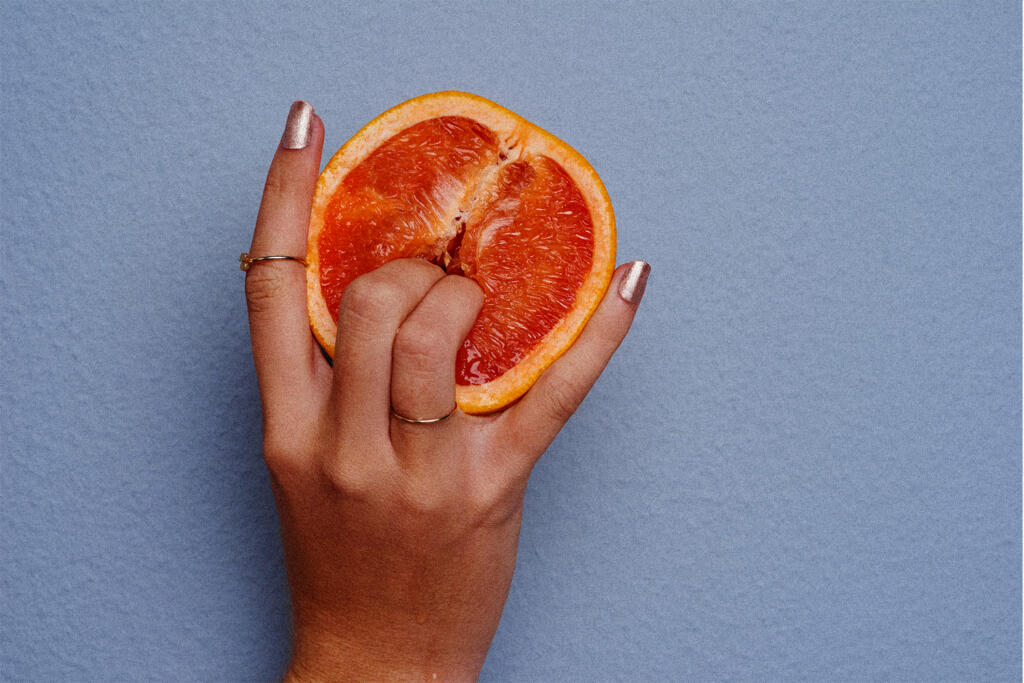 5. How to finger a girl: Know your methods
Every girl is different, and as we explore tips for fingering a woman, it's a good idea to keep in mind that what works with one may not with another.
(Again, listen! Always listen!)
But here are a few specific methods to try.
Mostly outside
Some women really get off without a whole lot of penetration. Try circular motions focused more on the outside of her labia with just the tip – haha – of a finger flickering inside now and again.
Gentle pressure with your palm on her clit at the same time often gets a nice response…just saying.
All the way in
On the other hand, some women really, REALLY dig it when you stroke the bundle of nerves on the inside upper wall of her vagina underneath her clit – aka the G-spot.
Keep in mind, the same warning applies to the back side of the clit as to the front: ease into this with caution and be attentive to her responses.
Lots of times a woman getting fingered likes a sort of "come here" motion with your fingers pressing against that area, inside the upper wall of her vagina, gentle at first but ramping up.
Combo platter
You know how you like it when a woman is blowing you and she goes super hard and fast for a few strokes, then slows down and barely teases you with her tongue for a bit? Yeah…
Think about that as you play with your lady's parts: delving in, slowing down and pulling back out to switch to playing more outside, rinse and repeat.
Here's a few choice lubes to get you started!
Uberlube – At $18 for a 1.7 oz bottle, Uberlube comes in a super stylish bottle and has no affiliation with the rideshare robber barons. Unscented and flavorless, this silicon-based lube also contains Vitamin E for healing chafed parts!
KY Glide – Hey, why mess with success? KY is a classic staple of sexonauts everywhere for good reason. Smooth, water-based lube, baby, a bargain at $6.74 for a 4-oz bottle.
FAV – You want to impress a girl, get some luxury lube from FAV. Water-based and also in a stylish bottle for the bedside, a huge 33.5 oz bottle is only $18.95.
Blitz yourself better!
Now read these:
—How to make your girl cum faster
—Tips to get her love juices flowing
—How to find the legendary g-spot
—Female masturbation addiction
—How to give her multiple orgasms