Wondering how to dye your beard? You're not alone. Beard coloring can be an excellent way to improve your self-confidence, particularly if you're unhappy with unwanted greys in your scruff. 
However, beard dying isn't exactly the same as hair dying. When you're dying facial hair, you're dealing with a totally different kind of follicle.
The good news? There are plenty of tips and tricks to help guide you towards success.
Today, we're going to give you some helpful insights into the confusing, but wonderful world of beard dye. We'll also provide top tips on applying dye correctly, and what to avoid.
Let's begin.
Can you dye your beard? Choosing the right color
Not everyone is automatically happy with the color of their natural beard.
While you can use combs and balms to improve the shape and style of your facial hair, the only way to change the color is with the right dye.
Beard dye can be a handy solution if you're trying to cover your age and hide grey hairs, or you simply want a more "uniform" look. Anyone who's dealt with patchy coloring in their beard before knows how annoying it can be.
There are both permanent, and semi-permanent dyes available for your beard (just like for your hair). If you have a beard that's mostly grey, you might want to simply touch-up the look, father than recoloring completely.
On the other hand, you might prefer a deeper shade of your natural color, or a completely brand-new look. It's totally up to you.
Unless you have a lot of confidence, we'd probably recommend starting with a subtle dye job. Something like the Just for Men grey reducing beard wash is a good choice. There's no sudden change of color with a dye like this.
Typically, it's best to choose a color a shade or two lighters than your natural hair. Remember, the hair on your face is a lot thicker and rougher than it is on your head (though both can fall victim to dandruff).
Thicker hair holds more dye, which can make it look darker. Even if you have black hair naturally, don't go so dark for your beard. Choose a beard color for men which is either dark brown, or a brown/grey combo.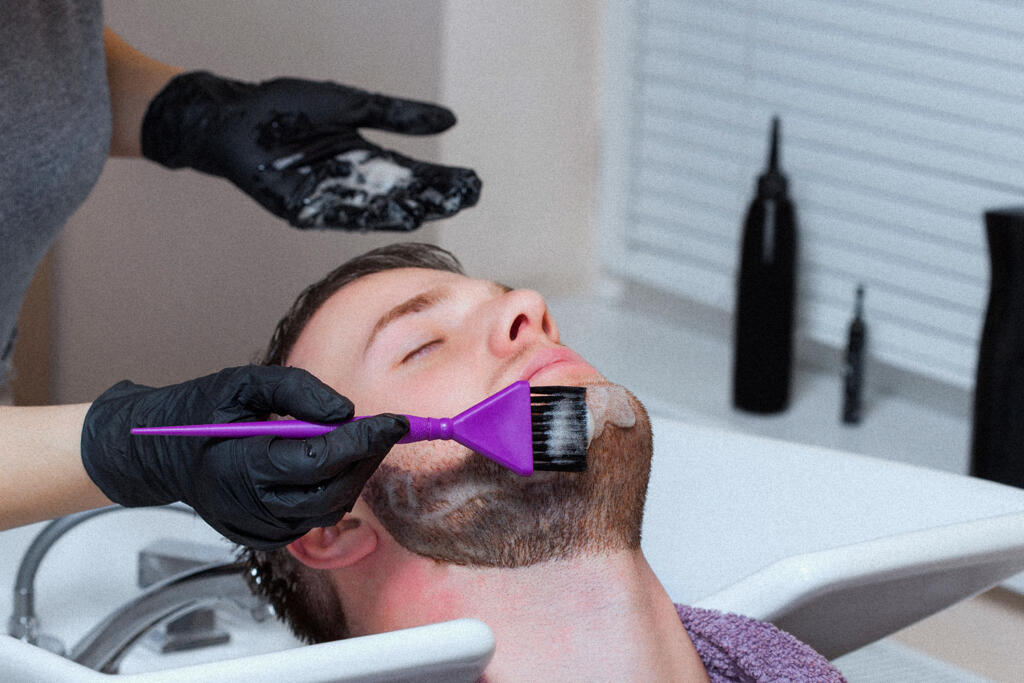 How to dye a beard: Initial tips for dying a beard
The first step in beard coloring is the prep. You can wash your beard the day before applying the dye with an appropriate shampoo to get rid of any lingering dirt. Don't wash and style on the day, as this will remove the natural oils available to protect your skin.
Rinse off any lingering residue and make sure your skin is fully dry before going to bed. If you're going through a full beard pampering session, you might want to trim your facial hair a little before you begin dying. You can do this with scissors or a pair of clippers.
Don't apply any oils or balms, as this will make it harder for the dye to soak in.
When you're done trimming, apply a barrier layer of Vaseline or mineral oil to the skin around the beard. This will help to reduce the risk of blotches of dye on your skin. Throw on a pair of rubber gloves to protect your hands too.
When it comes to mixing your beard coloring, you should find instructions on the packaging. Most of the time, you'll need to mix a color with a kind of conditioning serum which helps the dye to seep into your hair.
Make sure everything is thoroughly mixed before you start the application.
How to apply beard dye: Beard dying tips
Now you're ready to apply your beard dye, grab the brush applicator included with the box. This will allow you to carefully paint the dye into your beard. Mix the tip of the brush into the solution and coat the beard thoroughly.
You may need to separate parts of your beard hair as you work to get the hair underneath the surface layer. Dying a beard can often be tougher than dying hair because the hair sticks together.
If possible, try using a beard comb to segment the beard into sections. If your hair is particularly long, you can tie it into chunks to work on different areas.
Coat the whole beard and try not to worry too much if you get a little dye on your skin. Dying facial hair can be a messy job. If you've used the oil barrier method above, you should be able to keep the stains hidden within the beard until they wash away fully.
Following the instructions provided by your beard dying package, leave the dye to work its magic. Most will take around 10 or 20 minutes to take full effect. You may need to do a secondary application if you've missed any spots.
Once the allotted time has passed, rinse through your beard thoroughly, using an appropriate beard shampoo and warm water. Extra hot water can harm your hair and damage your skin. Run through your beard with your fingers to get hidden patches of dye.
Some beard dye kits also come with a color protection conditioner you can use to protect your beard after you're finished washing out the color. Use this, then apply a moisturizer or oil substance to lock in moisture.
If you don't get a conditioner included with the dye, don't panic. You can buy a great Just for Men beard conditioner separately.
You periodically patch up your dye job if you notice any missing spots. The Just for Men mustache and beard kit, for instance, gives you up to 3 applications per box.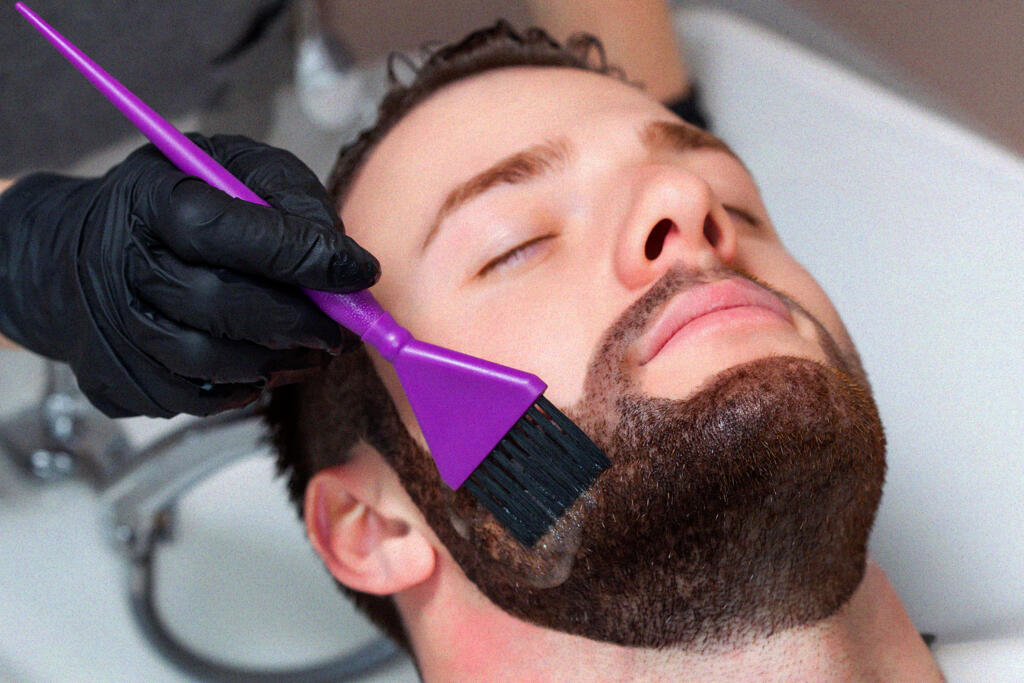 Beard dying FAQ: Quick answers to your questions
Dying a beard doesn't have to be a complicated process. However, if you've never worked with beard dye before, then you may have a few questions:
Q: What if I don't like the color?
A: You can either try looking for a dye removal product or wait a few weeks for the dye to gradually wash out. Depending on whether you chose a temporary or permanent dye, it might take a while longer to get back to normal.
You could always consider re-dying your beard a different color or shaving it off and starting again.
Q: Can you dye your hair with beard dye?
A: You technically could, but we wouldn't recommend it. Beard coloring is different to the coloring used for your head. Your risk harming your skin or ending up with terrible results if you use hair dye.
Q: How long does beard dye last?
A: This depends on the kind of beard dye you choose. Some will last temporarily – for a few days or weeks. Other dyes are designed to last longer (up to a couple of months). For longer-term dyes, you may need to patch up your color regularly.
Q: How do I get beard dye off my face?
A: Wondering how to get beard dye off your face? We've all been there. Rubbing alcohol on a small cotton pad is a great choice. You can also use dish washing liquid and baking soda to gently exfoliate the dye away.
There are actually quite a few options to explore.
Q: What if my beard is too dark?
A: If the finishing color is too dark, don't worry. The best thing to do here is hop into the shower and scrub your beard with some soap and a washcloth. This will lighten the color a little. If you need to remove the color entirely, you might need to speak to a professional.
Q: Are beard dyes safe?
A: This depends on which one you buy. Some are safer than others. Check the ingredients you'll be exposing your skin to in advance. It's also a good idea to do an allergy test a couple of days before applying beard dye.
Q: Can I get a dye applied professionally?
A: Yes, you just need to find a salon offering this service. If you're nervous about dying your own facial hair, professional assistance is recommended.
Looking after your beard coloring
Dying your beard can give you a major self-esteem boost if you're not currently happy with the way your facial hair looks. Just make sure you're prepared to do a good job.
Follow the instructions on the packet and commit to looking after your beard after you're done dying. Applying dye to any hair can damage the hair follicles if you're not careful.
Maintaining your beard with moisturizers and oils will keep it in good shape so it can continue to grow naturally. You can also think about touching your dye up every so often if you want it to look amazing for longer.
Blitz yourself better!
Now read these:
—Should you trim your nose hair?
—Reverse your male pattern baldness.
—The ultimate guide to remove ear hair.
—Are shaved armpits attractive?
—The best tips to tame your beard.