Have you ever looked in the mirror and asked, "Should I dye my beard?" Maybe your facial hair isn't looking as lush and well-groomed as usual.
Perhaps you've noticed a random assortment of new colors among the scruff, including the dreaded white and grey. If it's safe to dye your hair, your eyebrows, and even other locations, why not dye your beard too?
A lot of men feel uncertain about the concept of dying or coloring their beard. You might worry that the shade will look unnatural, or you'll end up with stains all over your face.
However, there are plenty of guys out there who do dye their facial hair. You might even know one of these gentlemen, and not be aware of it.
So, should you dye your beard?
Let's find out.
Should you dye your beard? Common reasons
There are a bunch of reasons you might decide to color your beard.
The most common is that your beard doesn't match your hair color, and you're just not happy with the natural shade you've got. A professional can dye both your beard and your head at the same time to give you that perfect finished look. It all depends on you.
You might decide to dye your beard because:
You're not ready to go grey
Nobody wants to be reminded they're getting older. Sometimes, unfortunately, your beard can begin to get that salt-and-pepper look before the rest of your hair. Although a little grey in your hair can be great for showing authority and wisdom, it's not the right look for everyone.
Patches of silver that don't blend well with the rest of your hair aren't going to seem as appealing either.
You need a confidence boost
Having your beard all the same color can really boost your look and give the hair more depth. If you're feeling a little self-conscious right now, dying your beard could be a great way to give yourself the self-esteem bonus you deserve.
Why not combine your dying session with an entire pamper afternoon?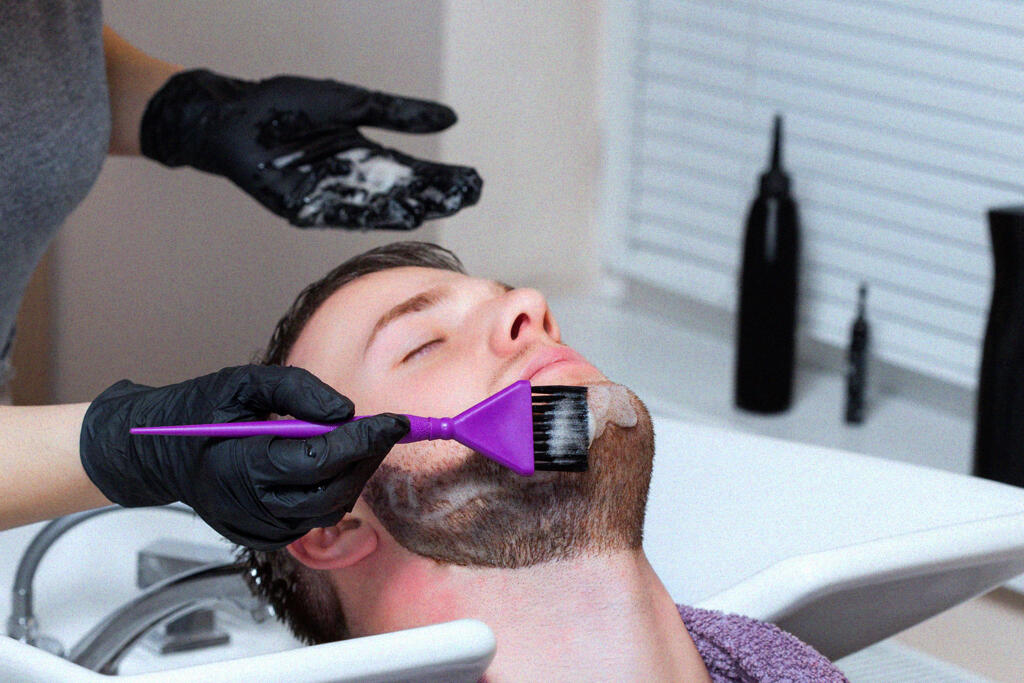 You're feeling some trendy vibes
If you're a fan of Instagram, you've probably already seen things like the Merman trend online. Though probably a little too much for some guys, a bright and unique beard color can be a great way to stand out.
Just make sure that it's cool for you to have a bright pink beard at work first.
You want to impress
Dying your beard, and the rest of your hair, can be a great way to make yourself look younger. This is often a fantastic way to capture the attention of love interests, or even a potential employer. Many employers are more likely to hire someone in the prime of their life.
You're sick of bad genetics
So, you decide to grow the perfect beard, and whoops – you've got a bunch of different shades of red, orange, and brown in one. You like the idea of having a beard, but you don't want the mismatched splash of color on your face. A dye job will get everything looking nice and uniform.
Should I dye my beard to match my hair?
The ultimate answer to the question: "Should I dye my beard?" is it's up to you.
There are plenty of specialist dyes out there carefully constructed to give you the perfect fresh-faced look. If you're not happy with your beard's current appearance, then a dye session could be just what you need.
You can dye your beard to match your hair, or you can choose a completely contrasting color for a head-turning look – it's all up to you.
Another bonus of dying your beard. It can sometimes make your hair look thicker. Dying your beard a darker color can give the impression that you have more hair than you really do. This could be useful if you're a little follicle-ly challenged.
Just make sure you take the right care of your beard after dying it. Dandruff does show up a lot more on a dark beard.
Of course, there are reasons not to dye your beard too.
For instance, there's no guarantee that you're going to get the look you want, which could mean shaving everything off and starting again. Dying your beard also means that if you do get the right look, you're going to be committing to a lot more upkeep and maintenance.
Dying and looking after a beard takes a lot of time. You can't let your routine slip, or you're going to risk people seeing the true color underneath.
Can I dye my beard? What are the rules?
We'd generally recommend waiting to dye your beard until you've got enough hair to make a real impact. Trying to dye your stubble will generally just mean that you end up with a mess all over your face.
It's also worth making sure you do your research before you get started.
Ask yourself: "What color should I dye my beard?" Are you looking for a uniform finish that matches your hair, or do you think you'd prefer a slightly different shade? If you're going for a brighter color, you might need to bleach your beard before dying it.
If this is the case, we definitely recommend going to a professional. Bleach can destroy your beard and harm your hair follicles if you're not careful. It also doesn't do great things for your skin.
If you decide to dye your beard, remember:
Not just any dye will do
Using a random hair dye picked up from any local store isn't going to be a good thing for your beard. Even if you just get a random beard dye, there's a risk that you're going to end up with frizzy, irreparably damaged hair.
Look for a dye you can trust or one that's recommended by a professional.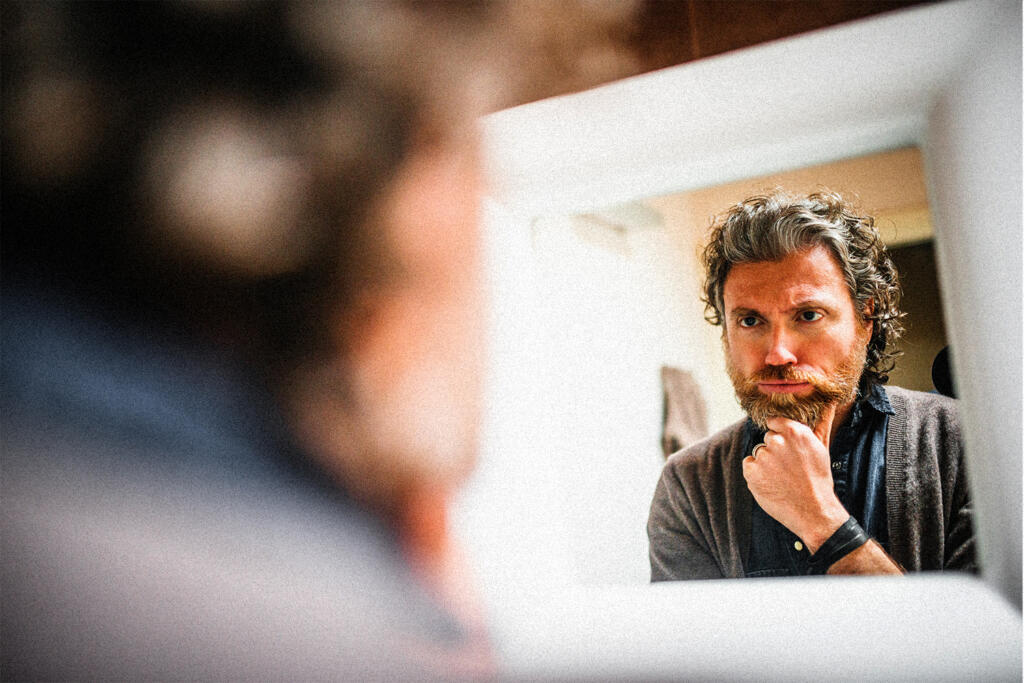 Professional or home job
There are kits out there that allow you to dye your beard yourself. This is a great option if you're low on time or you want to save money. However, if you're new to dying or you're working with a unique color, you might need to speak to a salon.
For your first time, it's usually a good idea to work with a professional. They can give you a good insight into the kind of dye you need.
Look after your beard
Dying your beard is just like dying your hair. You need to make sure that you have the right care and treatment plan in place. First, Vaseline is a good tool if you want to prevent dye from seeping into your skin around your beard – that isn't a good look.
You can also look into getting conditioners and treatment balms for your beard after you've dyed it. Dying can damage hair, so having an extra pamper session is advised.
What color should I dye my beard?
Now it's the moment of truth. If you're dying your beard, you're going to need the right shade. The hair on your face is quite different to the hair on your scalp. Beard hair is rougher, thicker, and harder to dye. This means that you're going to need to be cautious with your choice.
Typically, it's a good idea to go a few shades lighter than your natural color, or you could make your beard look too dark.
If you have black hair, don't buy black dye for your beard, or you're going to make it look unusual and fake. A brown dye that's a little dark than most will stop you from looking too pale. Men with darker hair colors should also choose dye shades just a little lighter than their natural color.
Need a little help getting start?
This Just for Men mustache and beard dye comes with the brush for accurately dying your beard included. There are two shades to choose from. The medium brown is a good pick if you've got dark brown hair.
To control all kinds of grey hairs and maintain your color, try the Just for Men beard wash. Unlike a standard dye, this is a wash that gradually colors your beard the more you use it. We'd recommend giving something like this a try if you're not sure about dying your beard.
Look after your beard after you've dyed it with the proper hair condition. This Just for Men beard conditioner is perfect for protecting your beard after dying. It comes with oatmeal, chamomile, and aloe to soothe your skin.
Remember, if in doubt – see a professional. Most can even help you fix a botched beard dying job if you contact them quick enough.
Blitz yourself better!
Just so you know… This article contains affiliate links. The commission we earn helps to cover our costs, and comes at no additional cost to you. For more information on our affiliate program, please refer to our disclosure policy.
Now read these:
—Do women find beards attractive?
—Tips on how to grow a thicker beard.
—The best beard styles for men.
—Top 9 combs to tame your beard.
—The best moisturizers for smoother stubble.
—How to shake that beard dandruff away.