Why more young men take Viagra – the little blue pill isn't just for old dudes anymore, but it may come with risks.
When a group of scientists working for the Pfizer drug company in a lab in Kent were researching high blood pressure medication in the mid-1990s and accidentally stumbled on the formula for sildenafil, they probably had as much trouble hiding their excitement as their boners. 
The drug, originally meant to be an angina treatment, was quickly recognized as the gold mine that it is, and repositioned and sold as a treatment for erectile dysfunction under the brand name Viagra.
And all around the world, young trophy wives married to doddering old millionaires wept, realizing their jobs had just gotten a lot harder – just like their husbands! Am I right fellas?
Sorry. I'll show myself out.
Viagra – along with terrible jokes like that one – spewed its influence all over popular culture after it was approved for sale in 1998, and sales peaked at $1.9 billion in 2008 alone. 
But far from being used strictly as a treatment for erectile dysfunction among the drooping elderly, or the corpulent and gross, along with similar medications like Cialis and Levitra, Viagra was soon being scooped up by younger men as well, even some who don't have erectile dysfunction. 
It has long been a staple of the porn industry, sort of a dick-surance policy, and lots of guys in the gay club scene in the early 2000s added Viagra to their regular suite of party drugs, as it allowed men to perform better than they otherwise would, often while high and drunk.
These days Viagra is sold over the counter in most countries, and it has become more or less fully mainstreamed, as anyone with an email account can tell you by taking a quick look at their spam folder. 
Recent articles in mainstream(ish) publications quote dudes in their 20s and 30s claiming it's just as common to ask a buddy to loan you a Viagra as it is to ask to borrow a condom when they're out on the town and things are looking promising with the ladies.
But as more and more young guys take Viagra, even those who don't have erectile dysfunction issues, what are the implications with Viagra for young men? Are there any dangers? 
How does Viagra work its boner-iffic magic, and what does it actually do to your body? What are the benefits and what are some things to watch out for in terms of taking Viagra for young men?
How does Viagra work?
Let's start with the basics. The process of how sildenafil or Viagra works on the male body is multi-leveled and somewhat complicated. But the nutshell version is that it has to do with nitric oxide binding to an enzyme called cGMP in the corpus cavernosum, the large chambers that hold blood in the penis and result in an erection. 
This nitric oxide/cGMP bond in turn results in vasodilation or smooth muscle relaxation of the arteries that carry blood to the penis, and viola, what you've got there sir, is a meat hammer she could chip a tooth on.
It takes most guys an average of 27 minutes after taking Sildenafil by mouth for it to work, but the time can span anywhere from 12 to 70 minutes. If you take the pill and let it dissolve under your tongue, the onset time drops to an average of about 15 minutes. 
It also comes in liquid form, which makes for even faster onset of erections. If Viagra is taken with a high-fat meal, however, the onset time gets pushed back to an average of an hour, and the overall "maximum plasma concentration" is reduced by about a third, meaning it may be less effective.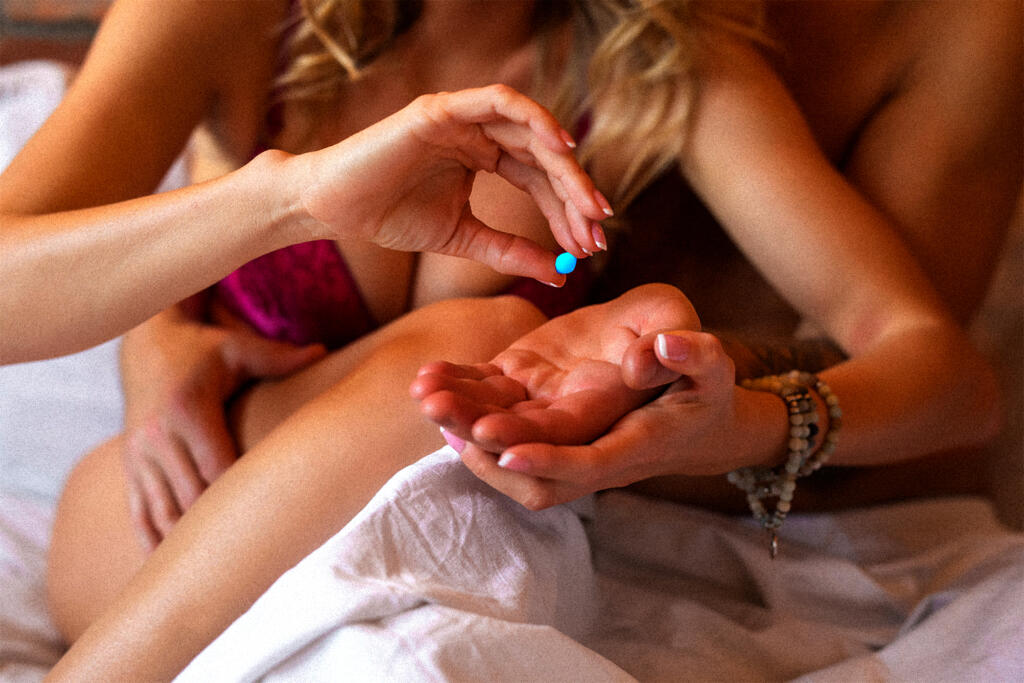 When young men take Viagra, what does it actually do to your body?
So we're having fun here, but in all seriousness Viagra is a drug that can have serious effects on your body, even for young guys who take Viagra. 
Do your research, consult with a medical professional before taking Viagra if you're taking other meds, and listen to your body if you do decide to take it. 
Especially important is that you don't hesitate to get medical help if something isn't right, and if you do, be sure to tell them EVERY drug you've taken recently, or they won't be able to help you to the best of their abilities. 
Now, keep in mind that the effects vary from person to person. 
As every dude knows, your trouser monkey is a wonderfully wacky but sometimes fickle friend. The process of getting and maintaining an erection is complex, so Viagra isn't a silver bullet. 
Also remember that Viagra isn't a magic trick. You still will need sexual stimulation in order to plump up your pork roll. So it's not like you'll be walking round all day with a rager simply from taking the pill.
In addition, other meds can affect the drug's efficacy. 
And there are other changes Viagra wreaks on the body, even in younger guys. So let's talk next about side effects and other issues that come along with taking Viagra for young men.
What are some of the side effects when young guys take Viagra?
The number one side effect that is very relevant to our interests here is of course the legendary warning you hear on every commercial for a drug like Viagra: "If you have an erection that lasts for more than four hours, see your doctor as permanent damage can result."
While a 4-hour boner – or a 6-hour or 8-hour one – sounds like it could be kind of fun, especially for your lady friends, the truth is that if the blood remains trapped in the penis for too long, it becomes deprived of oxygen. 
That can in turn result in tissue damage to the penis, disfigurement or even – gulp – gangrene. 
Treatment options for a 4-hour or longer erection, aka priapism, include ice packs, and if that doesn't work – prepare to cringe and cross your legs guys – aspirating the blood from your penis with a needle.
Yeah…so about that 8-hour hard-on? I'll take a hard pass on that, so to speak.
But that's just the worst case scenario and in truth it isn't very common, thankfully. 
Another thing to keep in mind if you are wondering is Viagra safe to take for young males is that even as it pumps your peen full of blood, it causes your body's overall blood pressure to drop. If you take any kind of blood pressure medication like nitrates (i.e. nitroglycerin) you should definitely see your doctor before you take Viagra because the combination can be dangerous and even deadly. 
Other rare side effects include vision problems and hearing loss.
What are the other health effects when young guys take Viagra?
There are other, less dangerous but nonetheless sometimes troubling side effects that are reported much more frequently by men who take Viagra. Even young men who take Viagra report some of these more common side effects, including headaches, flushed skin, and heartburn. 
Interestingly, given that it is a blue pill, when young men take Viagra they sometimes report that their vision takes on a blueish tinge for the duration of the drug's effectiveness.
Other users report feeling as though their heart is racing while they're taking Viagra, a sensation that isn't exactly conducive to getting down and dirty. 
Still other men report feeling slightly dizzy, and one guy in a recent (slightly hysterical) Men's Health piece on Viagra reported that he felt like "…the veins were bulging out like my penis was about to explode."
Many young guys who take Viagra report that, even if they don't suffer from ED, it gives them an extra boost of confidence when they're getting some stink on their johnson. And that's all well and good, but some experts warn that that very factor could lead to a kind of dependence on Viagra. 
While Viagra and other ED drugs aren't addictive in the way heroin or cigarettes are, nonetheless some experts suggest that younger guys who take Viagra could be setting themselves up for long-term future trouble, if they come to rely on it every time they have sex. 
The psychological boost of confidence cuts both ways, in other words, so you might want to use Viagra only on special occasions or if you're getting with a new girl and you want to really impress her with your abilities.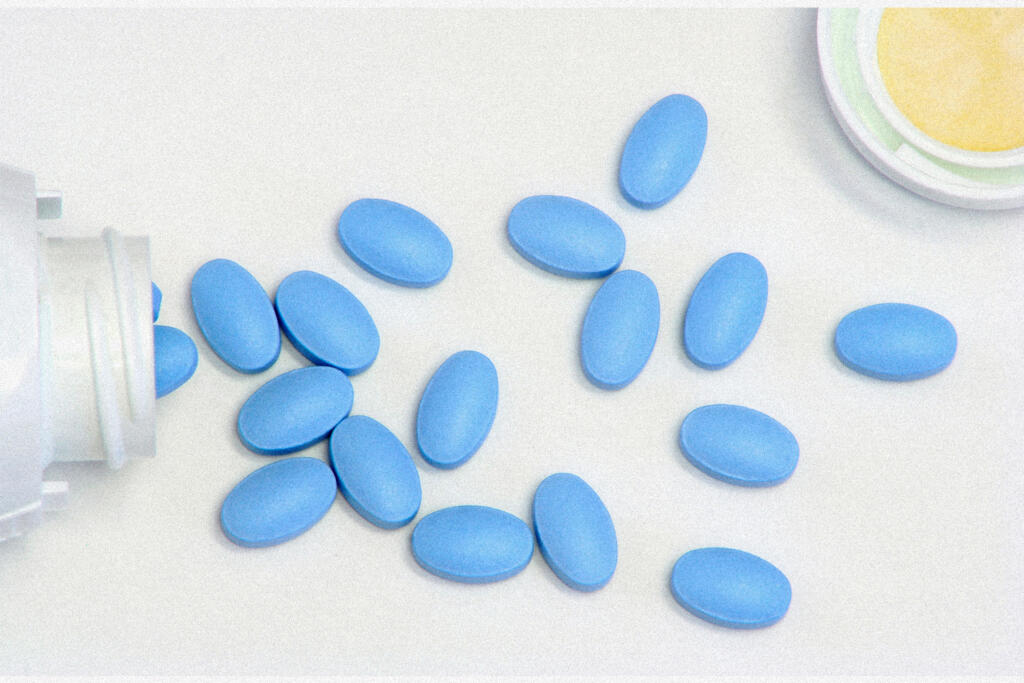 The bottom line: Is it safe for young men to take Viagra?
Is it a bit defeatist to start taking Viagra at an early age? I mean, you can make that argument, and some people do. But on the other hand there are a whole lot of dudes out there taking it without giving it a second thought, as we've discussed. 
It's a medication that has a tangible effect that for some of us improves our lives or is enjoyable in some way, not unlike alcohol, MDMA or cocaine.
The only real difference is that Viagra isn't actually addictive like those drugs are. 
And sure, like alcohol or cocaine, when young guys take Viagra it comes with risks. That's just part of the deal when you use chemicals in this wonderfully medication-soaked world. Millions of people take drugs – or medications, if you prefer that term – every single day and accept the risks that go along with them. 
As long as you understand those risks, we don't really consider that problematic for most people and many, many drugs.
In case you're asking is Viagra safe for young males, the answer is that it's likely to be safer for young males than older ones, as blood pressure and heart issues are more common the older we get. 
If you do decide to start packing a little blue pill into your "taking her down to bone-town" kit, be aware of the health risks, and be sure that you've had your blood pressure checked lately and that it is in the normal range. 
If you're otherwise healthy and aware of the side effects and the risks, there's no reason a young man taking Viagra should think about the drug any differently than he thinks about taking any other medication or drug. 
Used judiciously, used sparingly, and used with knowledge of the risks, there's no reason a young man taking Viagra should be treated any differently than if he were to take Prozac or smoke weed. 
Certainly thousands of young guys who take Viagra already would agree.
Stay tuned for more health and fitness advice from Blitz'd!
Now read these:
—The pros of dating a sugar momma.
—How to cum more naturally.
—What is premature ejaculation?
—How to last longer in bed.
—What is a ruined orgasm?