Should guys dye their eyebrows? The answer will depend on who you ask. If you're thinking about coloring your eyebrows, but don't know where to start, Blitz'd has you covered!
There are plenty of men out there who have never (and will never) consider doing anything to their eyebrows – besides occasionally plucking a stray hair. Then there are other men who know a tamed set of eyebrows (yes, there should be two), can make or break their look.
Today, we're going to be looking at the ins and outs of eyebrow tinting for men, what steps you'll need to take when coloring your eyebrows, and what you need to know.
Let's dive in…
Should guys dye their eyebrows? Exploring eyebrow tinting
Just like a well-groomed beard and an attractive hairstyle, your eyebrows can either complement your appearance, or damage it. You've probably noticed how an out-of-control unibrow can instantly damage a guy's confidence.
If you want to experiment with the importance of eyebrows, try using a photo editing tool to edit yours out of existence. You'll never take them for granted again.
If your eyebrows are too light for your liking, you might think they're making your face look a little too plain or washed out. Lack of eyebrows also means lack of definition on your face.
Alternatively, you might be considering coloring your eyebrows because your natural color is starting to fade and you're beginning to see more greys.
Many men are starting to dye their beard, hair and eyebrows all at the same time.
There's nothing to stop you from experimenting with eyebrow tinting if your brows are a source of poor self-esteem. All you need to do is make sure you choose the right strategy.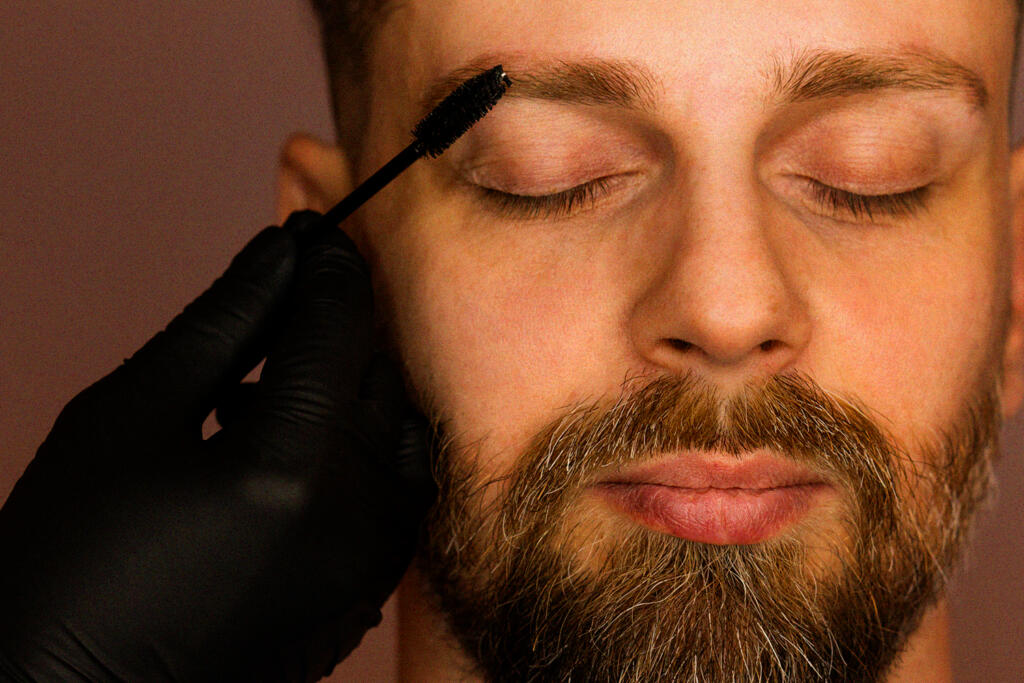 Eyebrow color: What color should your eyebrows be?
So, where do you get started when coloring your eyebrows?
You have a couple of options here.
Similar to dying your beard or hair, you can opt for the bold, unique look, or something more natural. If you really don't mind drawing attention to yourself, there's nothing to stop you from dying your eyebrows a funky color, but most people will prefer a more subtle effect.
If you want to keep your eyebrow color looking natural, the best option is usually to start coloring your eyebrows with a tint, rather than a standard dye. Tints give your existing color a smaller boost.
You should also think about the following questions:
What color should my eyebrows be?
Generally, it's best to go for something similar to the natural color of your hair. Your beard, head hair, and eyebrows should usually look pretty similar.
However, this doesn't mean you should by dying every part of your face with the same substance – we'll come back to this in a minute.
Do you want to leave some greys?
If you want to leave a few greys or create a more natural finished look, you might need to consider going to a specialist for help. It's hard to get anything other than a "block color" look when dying at home.
How much of an impact do you want to have?
If you have blond or ginger eyebrows, suddenly dying them black over night is going to cause a bit of a shock. You might prefer to gradually darken the hair, so it's less likely your friends and family will notice.
Eyebrow dye for men: What are your options?
If you've ever tried to dye your beard before, you'll know the hair on your face is a little different to the hair on the top of your head. Your eyebrow and beard hairs are generally thicker and coarser, which means they'll absorb a lot more color.
If you're coloring your eyebrows for the first time, we'd recommend starting with a specialist dye specifically intended for this purpose. You can sometimes use beard dye for eyebrows too – which is a good idea if you want to ensure all of your facial hair is matching.
You can also find eyebrow dye for men from some retailers. This dye will be less likely to stain your skin than hair dye too, which means you don't have to scrub as hard to get yourself looking clean again after a pamper session.
Tinting eyebrows with hair dye generally isn't recommended, due to the different consistency of the hair. Your eyebrow hair may absorb hair dye a lot faster than the hair on your head, which means you need to rinse it off a lot faster.
Dying eyebrows with hair color often means you end up with a higher concentration of the pigment too. This means your eyebrows will go really dark.
If you're confident with eyebrow tinting, you may be able to experiment with hair color for eyebrows, just make sure you check the instructions on the back to avoid any major disasters. Grab yourself some moisturizer to protect the skin too.
Remember, you can also find specialists offering eyebrow dying sessions for men too.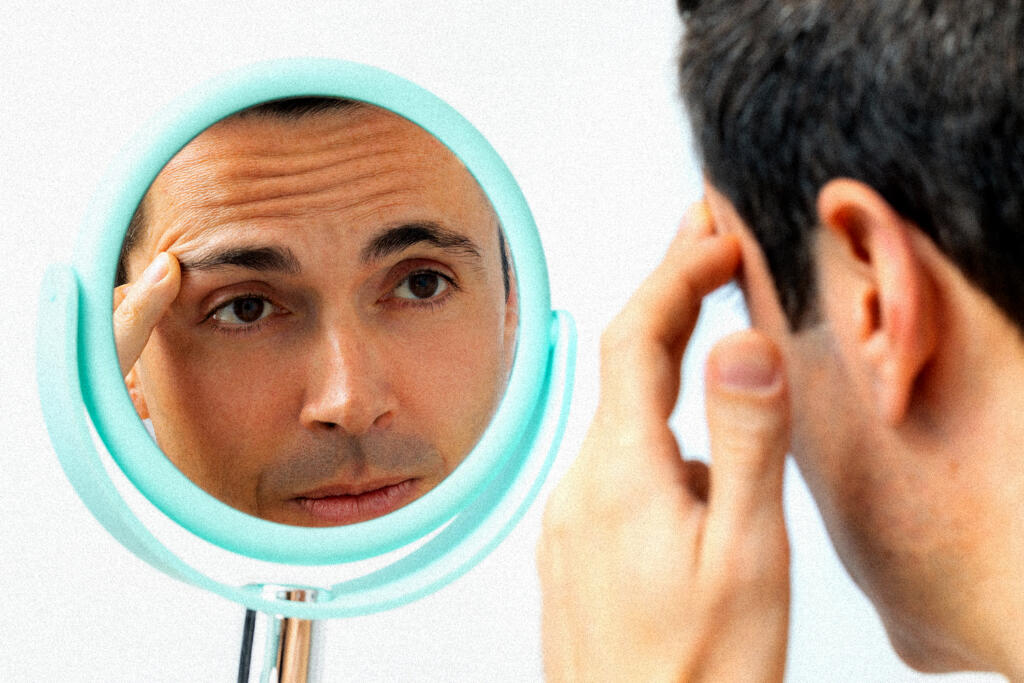 How to color your eyebrows: The basics
Learning how to color your eyebrows can be a little tricky.
If you're super concerned you're not going to end up with the right color or results, it's probably best to leave this job to the professionals.
If you feel confident in your own abilities, you should be able to color your eyebrows at home without any major problems, just follow these steps:
Choose your eyebrow color
Pick a color to complement the rest of your face. Something that matches your hair and beard color is usually the best bet. Start with a lighter shade if you're not sure, as it will be less noticeable.
Don't over-do it
Try to keep your eyebrows looking as natural as possible. Don't apply tons of dye at once, or you could risk dying the skin underneath too.
Groom your brows first
Use a pair of tweezers to remove any stray or unwanted hair before you get started. The goal is to keep everything looking neat and tidy. You can also use a trimmer or scissors to shape your brows, but we'd advise against this if you haven't tried before.
You can apply Vaseline around the shape of the eyebrow to stop the dye from bleeding into your skin too much.
Follow the instructions
Follow the instructions provided in the dye packaging. Don't apply more or less dye than you're advised to do so, and make sure you only leave the dye to develop for short period of time.
You don't want to damage the eyebrow hair and end up with it falling out. After you've waited for the required time, wash the dye from your face thoroughly, and exfoliate if necessary.
Care for your skin
Apply moisturizer after dying your brows to protect the skin. Remember the skin cells and hair follicles will often be a little damaged by the dye. Applying moisturizer helps to keep your hair in great condition.
You can repeat the dying process whenever your brows start to look a bit patchy but avoid applying dye too regularly.
If you're trying to figure out how to color grey eyebrows, or you have specific issues with your eyebrows you need help with (like dealing with patchy hair) speak to an expert rather than trying to handle everything yourself.
Best eyebrow dye for men
If you've decided it is time to color your eyebrows, you can find plenty of great options out there to help you. Here are some of our favorite eyebrow dyes for men…
1. Just for Men moustache and beard
Though technically a beard dye, this Just for Men eyebrows dye product is suitable for use on all facial hair, including your eyebrows. It even comes with biotin aloe and coconut oil, to help protect your skin and keep your hair growth as healthy as possible.
There are a range of colors to choose from, and we'd usually recommend starting a little lighter than your natural hair color if you're nervous.
2. Godefroy patch coloring kit
This patch-covering kit for men is great for covering up all of your gray hairs, and it's perfect for your eyebrows too. You get a full application kit, so you can accurately tint various parts of the face, including your eyebrows and mustache.
The great thing about this dye is it's perfect for covering even the most resistant grey hair.
3. Godefroy instant eyebrow color
This Godefroy instant eyebrow color kit promises to transform your eyebrows in a matter of minutes. You get three applications per kit, and you can even cover stubborn greys.
Suitable for up to 6 weeks without a reapplication, the Godefroy kit covers everything from mustaches to short beards, goatees, and sideburns, as well as your eyebrows.
Should guys dye their eyebrows?
Only you can decide whether dying your eyebrows is the right step for you. Some men find tinting their eyebrows to be the perfect way to get an extra dose of confidence. Others prefer to stick with their natural look.
If you decide eyebrow color is right for you, the tips above will help you make the right impact!
Blitz yourself better!
Just so you know… This article contains affiliate links. The commission we earn helps to cover our costs, and comes at no additional cost to you. For more information on our affiliate program, please refer to our disclosure policy.
Now read these:
—Eyebrow piercing pros and cons.
—The best beard styles for men.
—Do women find beards attractive?
—Should guys shave their armpits?
—The ultimate beard colouring tips.