Let's face it guys, men always look their best when they're ripped. 
A good workout routine, a healthy diet, and a little extra help along the way can turn you into the herculean gladiator that you always knew you could be. 
The only problem?
It's not always easy to tell the difference between the best fat burners on the market, and those placebo pills that only ever have a slimming effect on your wallet. 
If you feel as though you've got an extra bit of padding around your middle after an over-indulgent party season – or you need help burning off those extra slices of pizza, you need a supplement with real strength. That's why we've done the hard work for you – tracking down some of the top fat burners that the industry has to offer. 
Let's turn you into a lean, mean, fighting machine.
What to look for in the best men's fat burner
First things first, it's worth noting that fat burners for men come in a variety of different styles.
There are pills out there that are designed to get rid of that excess water weight you gathered when chugging down pints at the pub. You can also find supplements that focus on suppressing your appetite, so you're less tempted by an after-gym kebab. 
Regardless of the type of burner you go for, you should be focusing on supplements that:
Assist with cutting fat faster (so you can see more muscle).
Increase your energy levels so you can get more done during your workouts.
Support toning for the perfect cut physique. 
Handy ingredients in top fat burners 
When we started searching for the best male fat burner here at Blitz'd, we found thermogenic products to be the most common. Those are the pills that ramp up your metabolic rate, so you get rid of more calories.
You even burn calories when you're sitting on the couch or enjoying a Netflix and chill session. Some pills also suppress your appetite at the same time, so you burn more calories, without taking extra on.  
Though you can find a wide variety of ingredients in the top fat burners, some of the best include:
Capsaicinoids: Sometimes, to get #hot, you've gotta heat up your supplement routine. That means adding more capsaicin (the stuff in chillies and cayenne) to your diet. Cayenne in particular increases metabolism and reduces appetite. 
Green tea: Green tea isn't just for Instagram influencers. The ingredient can increase the rate at which your body breaks down fat and uses glucose. Hello muscles, and goodbye chub. 
Green coffee: Speaking of hot drinks, green coffee extract is one of the best fat-burning supplements because it's rich in chlorogenic acid. This inhibits fat absorption and improves fat metabolism. 
Caffeine and B vitamins: While caffeine boosts your energy levels, B vitamins helps to convert food into energy, so you're raring to go at the gym. 
Forskolin: This handy supplement might sound unusual, but it's been shown to increase your release of fatty acid and decrease fat retention in the body. 
Got all that? Great, now let's take a look at your fat burner options.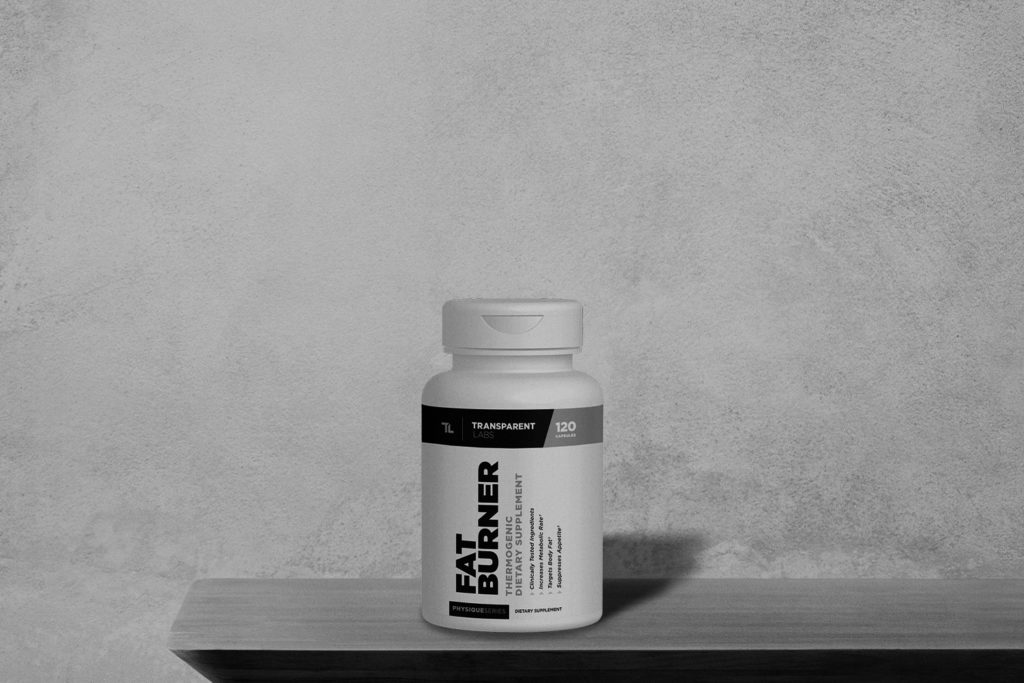 1. Physique series fat burner
Created by Transparent Labs, the Physique Series Fat burner is one of the highest-rated fat burners for men available. It's packed full of forskolin – that stuff that helps you to burn fat while maintaining muscle. What's more, it comes with absolutely no artificial preservatives, or sweeteners. 
The green tea extract and synephrine in this thermogenic fat burner will help to ramp up your resting metabolic rate, while the HTP-5 in the tablets cut down on those pesky hunger cravings. 
Bonus: The Physique Series' best men's fat burner also comes in a stimulant-free version, in case you don't handle stimulants very well. That's a great extra touch. 
Pros:
Quite affordable;
Lots of great ingredients, like Forskolin;
Stimulant and caffeine-free version available;
Nothing artificial included;
Great for metabolism boost and appetite suppression.
Cons:
You can only buy it online;
Misses a few helpful features, like capsaicin. 
2. Instant knockout top fat burner
The Instant Knockout fat burner is sure to grab your attention if you're looking for appetite suppression and metabolism support. First, you get a badass bottle in the shape of a fist – which is really cool. Plus, inside that bottle, you'll have access to everything you need to ramp up your fat-burning routine. 
As one of the best fat burners on the market, Instant Knockout is packed full of natural ingredients. Everything is certified, researched, and 100% safe. That's a real load off your mind when you're buying pills online. What's more, the core ingredients are all fantastic, including green tea extract for metabolism support and fat oxidation, and cayenne pepper seeds for a dose of heat. 
PLUS, you get the added benefit of Glucomannan. This long-chain soluble fiber reduces appetite and food cravings, banishing the desire for late-night snacking. 
Pros:
Plenty of proven ingredients;
Excellent for appetite suppression and metabolism-boosting;
All-natural and safe ingredients;
Handy energy boost;
Low price. 
Cons:
Not suitable for vegetarians (sorry);
Only available online. 
3. Hydroxycut Hardcore Elite
Don't let the slightly pretentious name put you off. 
Hydroxycut Hardcore Elite is one of the best male fat burner products in the US, and it's quickly gaining attention elsewhere in the world too. Offering improved energy and focus for when you're pumping iron in the gym, these pills help to drive better performance and weight loss at the same time.
For a relatively affordable price, you get caffeine extracts, L-theanine, and various other high-level ingredients in one handy pill. There's green coffee extract included in this supplement too, which helps to reduce your glucose absorption. 
At the same time, you also get a dose of a product called Yohimbine, which helps to break down fat in the body. 
Pros:
Well-known brand with a great reputation;
Large doses of green coffee bean extract;
Excellent for energy and metabolism;
Improves focus in the gym;
Reasonable pricing.
Cons:
Missing some valuable ingredients;
Yohimbine can sometimes cause side effects. 
4. PhenQ
Another of the best fat burners for men that we've seen so far, PhenQ is an awesome and pretty well-rounded weight loss pill. This pill has helped nearly 200 thousand customers get the perfect body – so it must be worth a try. 
With PhenQ, you'll be able to quickly and easily burn stored fat and suppress your appetite. You can also block fat production to improve weight loss, and even improve your mood too! The supplement includes a handful of our favorite ingredients here at Blitz'd, including cayenne pepper and L-carnitine. There's also a cactus extract included called nopal, which makes your stomach feel fuller. 
This isn't the most affordable product on the market today, but the company usually offers flash sales, if you're lucky enough to be browsing at the right time. 
Pros:
Hundreds of thousands of happy customers;
Testimonials on the website;
Improves mood as well as metabolism;
High doses of capsaicin;
Cons:
Low doses on some essential ingredients;
Only available in bottles of 60 pills.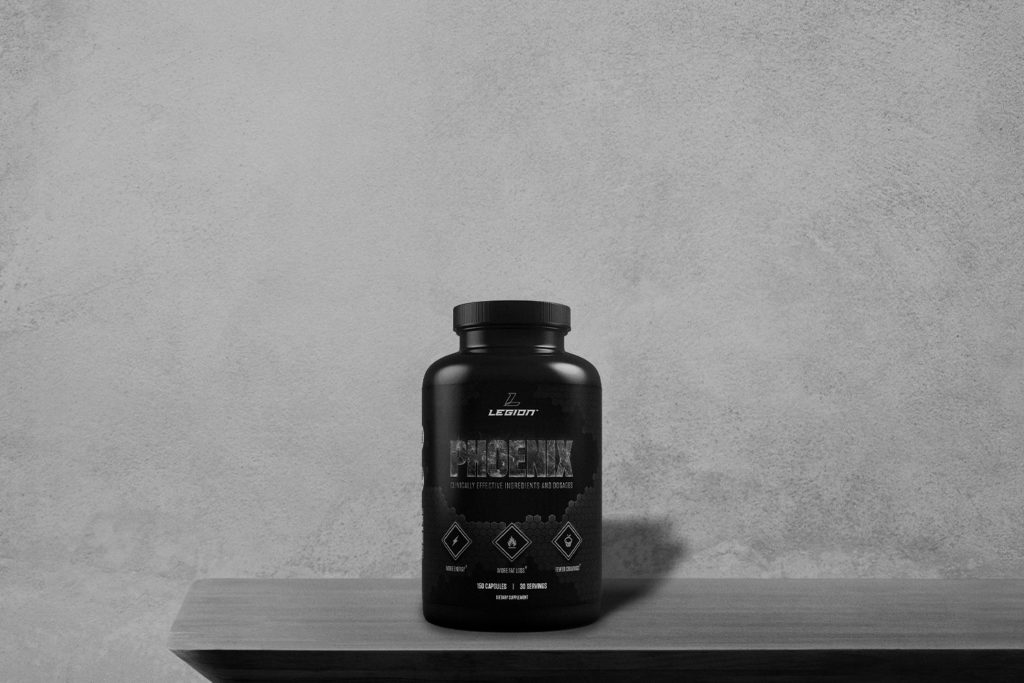 5. Pheonix fat burner
Legion Athletics is a pretty well-known company for fitness, fat burners, and even health articles. The Pheonix supplement from Legion Athletics stands out as one of the best male fat burner products, with a host of handy ingredients. 
For instance, if you check out the list of supplements here, you'll see that you get excellent doses of forskolin, green tea extract, and 5-HTP. Additionally, there's a useful dose of Synephrine included too. 
For those of you who aren't part-time scientists, Synephrine is great at fat burning, but it can sometimes cause side-effects like anxiety. 
The Pheonix fat burner is also caffeine-free for people who prefer to avoid stimulants. 
Pros:
Excellent brand;
Green tea extract, 5-HTP, and forskolin;
No Caffeine;
No dangerous blends;
Good pricing;
Money-back guarantee.
Cons:
Large dose of synephrine could cause side effects;
Pretty heavily hyped on the Legion Athletics website.
6. Ripped Freak Hybrid
Last but not least, we have the Ripped Freak Hybrid.
Putting the odd naming choice aside, this product will deliver a pretty effective fat burning experience. The supplement provides thermogenesis, which increases your body's temperature to sizzle away that extra fat. 
Additionally, Ripped Freak comes with a bunch of ingredients that support the fat-burning hormones in your body. If that wasn't enough, this product contains some of our favourite fat-burning tools, such as cayenne pepper, and green tea. 
Pros:
Excellent selection of ingredients;
Thermogenesis support;
Great online reviews;
Available to buy on Amazon;
No tiny doses. 
Cons:
Only 60 capsules available per bottle;
No appetite suppression.
Let's get ripped
While the top fat burners for men can seriously ramp up your body-building efforts – it's tough to find the products that you can trust to actually work. 
There are a lot of snake oil merchants out there, and you need to be careful that you're spending your money on something that makes you lean – not just your bank account. 
The 6 options we've outlined above were chosen not just for their excellent selection of ingredients, but their fantastic product reviews and reputable brands. Which one will you be trying as you head into your next workout session?
Stay tuned for more health and fitness advice from Blitz'd! 
Now read these:
—Should you fast to lose weight?
—Get ripped at home with this workout.
—Top tips to get back on track.
—How to motivate yourself to workout.
—Lose your dad bod today!